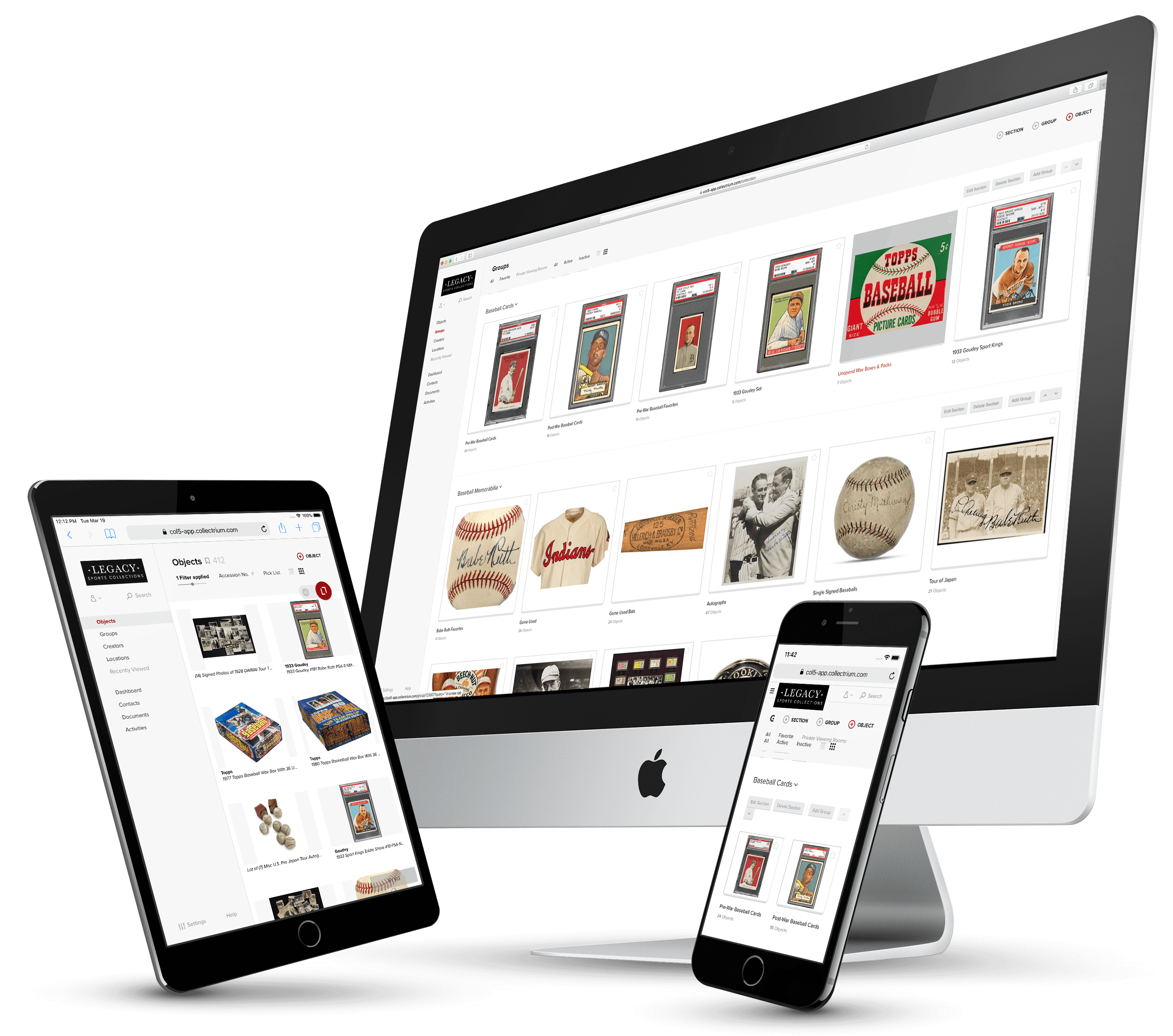 The ultimate collection management platform for important sports memorabilia and cards
LSC provides our clients with the world's most dynamic and secure digital platform for fine sports assets. Our customized collection management databases deliver intuitive features and a user-friendly interface tailored by LSC exclusively for sports collectors and investors. Regardless of the size or scope of your sports collection, be it multi-sport, card centric, narrowly niche-oriented, or encompassing a large cross-section of categories, an LSC Database enables collectors to manage and share their collections simply and securely on any computer or mobile device. Uniquely adapted with a blended perspective of industry knowledge and sports collector insight, an LSC Database will breathe new life into your collection while enhancing the value, liquidity, and security of your treasured sports artifacts.
Organize, Manage, Track and Enjoy your Sports Collection

Inventory

Store unlimited images and information for sports cards and memorabilia items, including location, purchase details, condition, authentication, provenance, valuation, consignment details and more. Create unlimited custom "threads" to group items any way you want, by any theme or category you can imagine; Player, Set, Team, Era, Stat Category, etc.

Imaging and Cataloguing

Image is everything… Your treasured sports artifacts demand the highest level of visual and contextual presentation. LSC's elite imaging services present your cards and memorabilia in the most visually dynamic way possible. Additionally, we produce written catalogue descriptions with the highest standards of scholarship and poignancy with concise historical context and complete provenance and literature references where appropriate.

Summary Dashboards

The Dashboard collection summary gives you a complete and visually stunning view of all your holdings. Sort categorically by value, number of objects or location to see the breakdown of your collection. Use the timeline to view objects in the context of date acquired or sold. Create a variety of printable documents and summary reports in seconds. The Dashboard features make it easy to see trends across your collection and gain better control of your portfolio.

Sharing

Create and share tailored presentations of your sports collection directly from any device anytime, anywhere with our secure cloud-based platform. Whether at a show/convention, with clients or presenting your prized sports artifacts to friends or business associates, your LSC Database allows you to share items in a beautifully designed and easy to use interface.

Contacts & Calendar

Store information about your hobby associates, clients, industry professionals and even friends and family if you wish. Record complete contact details, conversations and communications, notes and images. The calendar records all events related to your collection. Never miss an important show, convention, consignment deadline, auction closing or personal reminder.

Security & Privacy

Protecting your data is one of our top priorities. All data is encrypted with the same level of security as your online banking and is backed up regularly. Only you control access to your LSC Database with user permission options enabling selective visibility of specific information and object details.

Easy to Start, Easy to Use

Regardless of the size or composition of your collection, LSC makes getting started as easy as possible. Our custom onboarding templates and intuitive data migration process enables the efficient set up your LSC Database. Save time by importing hundreds or thousands of sports card and memorabilia records and images at once. LSC Database services range from white-glove creation and management to basic consultation.