Purveyors of the world's finest sports artifacts
Serving sports collectors and investors for more than 30 years
LSC is about Total ROI
Not just from a financial standpoint but the personal investment in the sports collecting experience.
Nostalgia, Preservation, Community, Academia, or Portfolio Diversification - Regardless of your goals as a collector/investor Legacy Sports Collections is dedicated to maximizing Total ROI for every client who shares our passion for The Hobby. Whether you are an advanced, seasoned or nascent sports collector, a trustee of an estate collection, or a marketplace professional, our comprehensive range of services are tailored to enhance the myriad benefits of the curation of fine sports artifacts.
Collector Advisory
History, Provenance, Quality and Character are the Hobby tenets that drive Legacy Sports Collections in our curatorial work with private collectors. Our mission is to help collectors at every level indulge their passion for vintage sports cards and memorabilia and realize their collecting goals with maximum pleasure and efficiency. Our scope of expertise and marketplace intelligence makes us a valuable partner throughout every phase of the collecting lifecycle. LSC Collector Advisory services address three principal aspects: strategic development, collection management and deaccession.
Learn More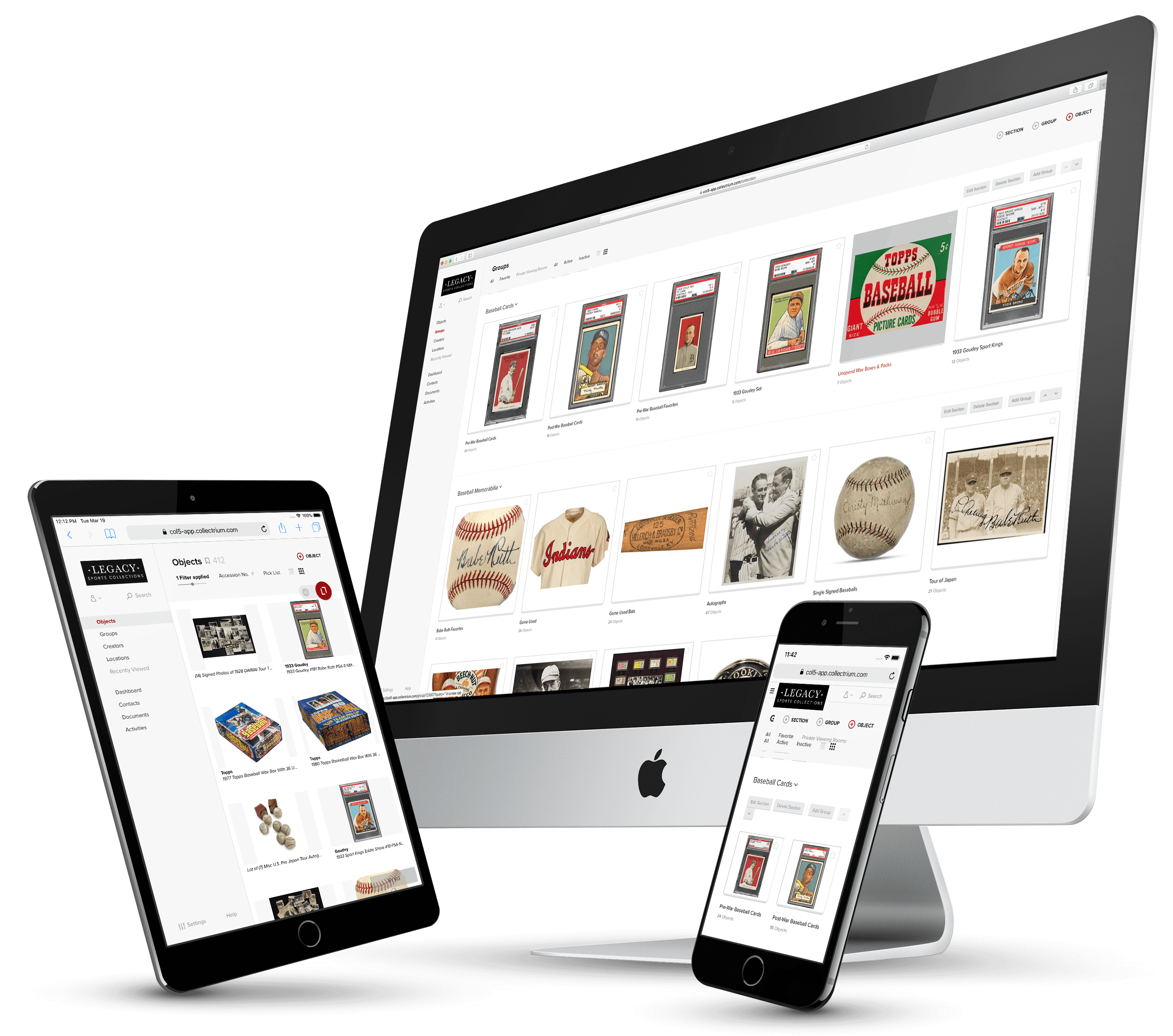 Presentation, Organization, and Security
The LSC Database, is the ultimate collection management platform specifically customized for sports collectors. Cloud-based technology and intuitive design enable you to organize, care for, share and enjoy your sports cards and memorabilia in a dynamic customizable digital platform on any computer or mobile device. Access images, records and manage every facet of your collection with state-of-the-art security and data protection.
Get connected to your sports card and memorabilia collection like never before.
Dynamic Presentation

Data Privacy

Secure Storage

Mobile Access

Easy User Interface

Custom Reports

Financial Dashboards

Private Sharing
Learn More
Legacy Vault
A curated gallery of Legacy Quality sports artifacts.
Never run of the mill, Legacy Vault items are carefully selected for presentation based on the measures of Historical Importance, Provenance, Quality and Character.